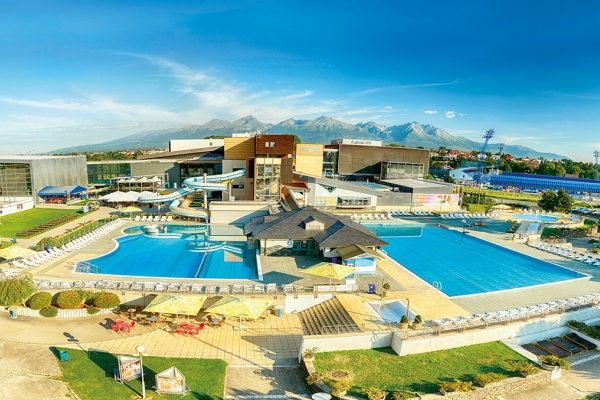 A true water paradise below the Tatras
WELCOME TO AQUACITY POPRAD
Dear guests, enjoy absolute luxury with us at the foot of the High Tatras in the heart of Europe. Our unique European resort helps protect the environment by using top modern ecological technologies. AquaCity Poprad is a matchless complex with a variety of services that guarantee ideal holidays, unforgettable family trips or corporate events. The multipurpose resort offers accommodation, relaxation and wellness services, health tourism and sports, gastronomy and congress services for business clients. There are 3 hotels in the resort – Riverside, Seasons, Mountain View in Poprad. The thermal water park features 14 outdoor and indoor pools (overall water area of 3,500m2), a fitness centre, a cryotherapy centre, Interklinik Poprad – a health and beauty clinic, a 2-storey wellness and spa centre with an area of 1,600 m2, massage centres, bars, restaurants, kid's corners, playgrounds and congress venues.
Modern and comfortable
HOTEL ACCOMMODATION
Discover our top-quality hotels, culinary experiences, wellness and spa treatments, extensive experience with organising corporate events and a wide range of extra services. The AquaCity Poprad resort includes the following hotels: Mountain View ****, Seasons **** and Riverside***. In Stará Lesná in the High Tatras, there are two more hotels: Horizont Resort ***** and Hills ****.
Unique and professional
RELAXATION & WELLNESS SERVICES
AquaCity Poprad is a world of amusement, relaxation and peace. The water park offers 13 outdoor and indoor thermal water pools with temperatures of 28°C – 38°C, water slides and more than 350 water attractions. The water of AquaCity rises deep under the surface and is cooled down from 50°C to 36 to 38°C by using technology. The thermal water that is used in pools rises as deep as 1,300 metres and contains more than 20 minerals that are beneficial to human health. It helps with problems of the musculoskeletal and respiratory system, blood circulation, the nervous system and has beneficial cosmetic effects.
Top corporate
EVENTS
Our unique multipurpose congress venues with modern technology and variable arrangement options are ideal for all kinds of corporate or private events. Give the best account of yourself and let us prepare a unique event with unforgettable moments for you. Our wide range of conference rooms is adapted to the latest trends and needs in the field of events, training, congresses, weddings, teambuilding and corporate events. Use our variable congress room for 350 people, our meeting room, lounges, rent our pools or outdoor areas.
Who are we?
OUR STORY
The AquaCity resort was originally an indoor swimming pool of the town of Poprad between 1985 and 2003 and served mainly to the town inhabitants and people from nearby. Then a geothermal spring with the temperature of 49°C and a capacity of 60 litres/second was discovered close to the swimming pool. The spring was unused and unusable at that time. However, the situation changed fundamentally once a new investor decided to use the geothermal pool and created a healthy and promising technology based on it to offer relaxation and boost health. Between 2003 and 2004, the indoor swimming pool was taken over by a company that has owned and operated it until today, i.e. AQUAPARK Poprad s.r.o. On 4.7.2004, the AquaCity Poprad water park was officially opened. The geothermal pool which rises in the water park area hadn't been used before, but became the main source of pleasure and relaxation for water park visitors ever since. Former President of the Slovak Republic, Mr. Ivan Gašparovič was invited to the grand opening to open the park. Mikuláš Dzurinda, the then Prime Minister and Rudolf Zajac, the then Health Minister were there as well.
AQUACITY POPRAD LOCATION
0
QUALITY AND SCOPE OF OFFERED SERVICES
0
WELLNESS AND RELAXATION SERVICES
0
ATTRACTIONS FOR FAMILIES WITH KIDS
0
QUALITY OF GASTRONOMY SERVICES
0
THE MOST ECOLOGICAL RESORT IN THE WORLD
AquaCity Poprad is literally self-sufficient and by using geothermal energy and solar power, it prevents about 27 tonnes of carbon dioxide from being released into the atmosphere every day. The water park energy costs are considerably reduced. Thermal energy that comes from extensive underground geothermal water sources is transferred to heat exchangers and heat pumps and returns back to nature after it is cooled down. This means that the natural cycle can start again. By using natural energy sources instead of e.g. burning coal, AquaCity saves millions of Euros as for operation costs per year. Environmental protection is one of the most important tasks of this generation and concerns the whole society. AquaCity Poprad saves energy, money and mainly environment with its responsible approach.
Read more
AWARDS
Under our management, the water park received several significant international awards. More than 200,000 experts from 190 countries voted for AquaCity Poprad, which won the international World Travel Awards competition in the "World's Leading Green Resort" category in 2007 and 2008 and was declared the most ecological resort in the world.
Read more