AquaCity Poprad is a world of entertainment, rest and relaxation. The Aquapark includes 13 outdoor and indoor pools with a temperature of thermal water 28°C – 38°C, water slides and more than 350 water attractions. Water in AquaCity comes from a natural underground source and is brought to the site. The process is cooled to 36-38 ° C from 50 ° C. Pools have an anti-corrosion surface to minimise the need for chlorine. UV radiation is used to disinfect it, making it skin-friendly and eye-friendly. Water in the thermal pools originates from a depth of 1300 m and contains more than 20 different minerals beneficial to human health. It helps with movement and respiratory system problems, blood circulation, nervous system and has beneficial cosmetic effects.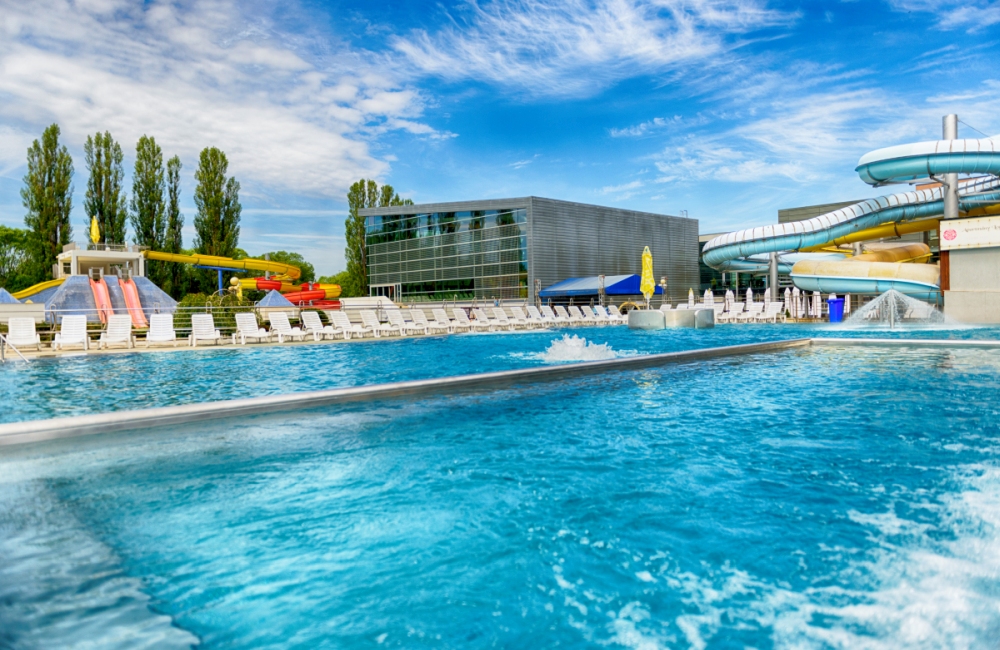 SITTING POOL
Outdoor thermal pool / year-round • Temperature: 38°C • Depth: 1.2m • Dimensions: 14x7m
In the outdoor soaking thermal pool, you can relax. The warmest swimming pool in AquaCity Poprad with a temperature of 38 ° C and a depth of 1.2m with massage jets and air beads on the seats are an ideal place for pleasant relaxation in thermal water. Feel the beneficial effects of crystal – clear thermal water containing more than 20 different minerals.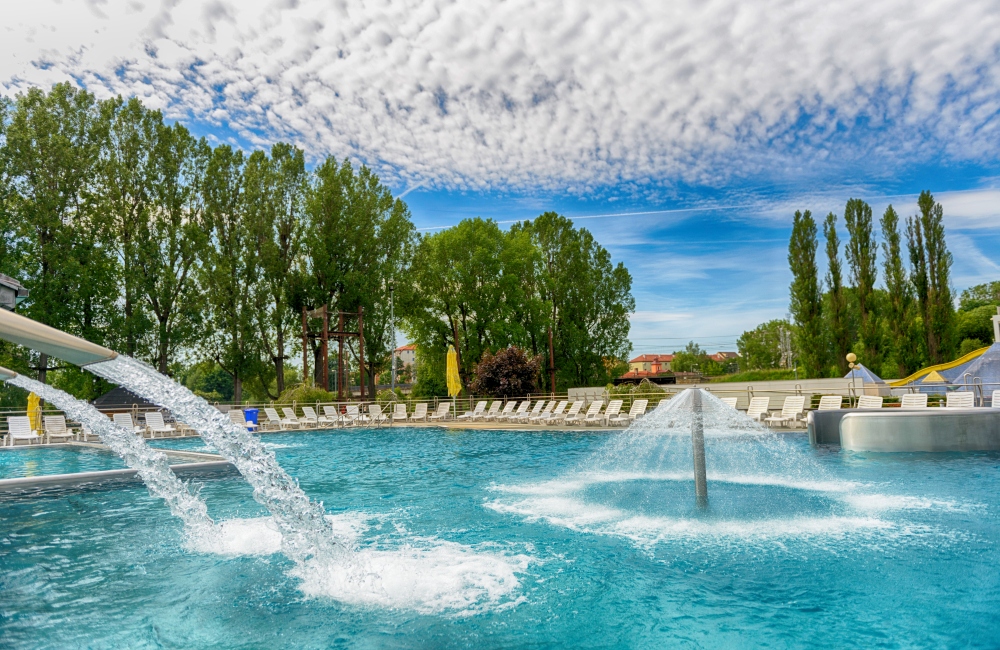 RELAXING POOL
Outdoor thermal pool / year-round • Temperature: 33° – 35°C • Depth: 1.2m • Dimensions: 25x17m
In the relaxing thermal pool, you can find air-framed massage deck chairs with water beads, massage nozzles, water mushrooms, gargoyles, bottom outlets or a swinging bell. Ideal place for perfect relaxation, regeneration and relaxation of your body after a busy day. 
You can experience great adrenaline fun on two year-round water slides Black hole 71m and Twister 54m with lots of twists and surprises. During the summer, enjoy the Family Slide on the Mayan pyramid, the fast and steep red waterslides of the Kamikadze, or the rafting toboggan run up to 30m. For outdoor children's pools, children can enjoy small and safe slides.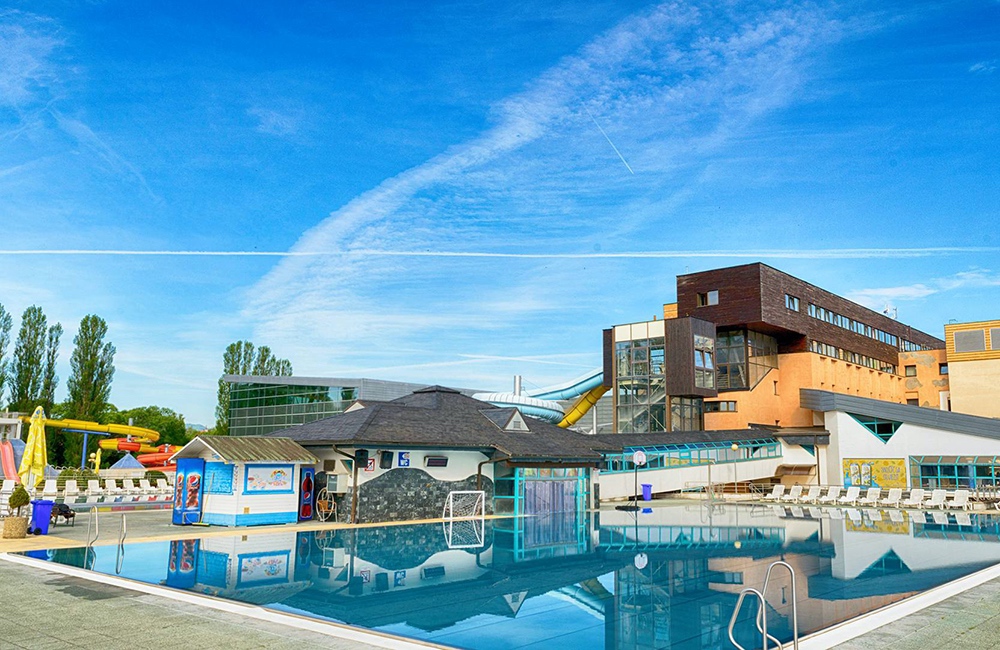 SWIMMING POOL
Outdoor thermal pool / year-round • Temperature: 33°C • Depth: 1.5m • Dimensions: 32x15m
Enjoy swimming in the 33m long outdoor swimming pool, which is a suitable place for passionate athletes and active swimmers. Indulge in active sports relaxation.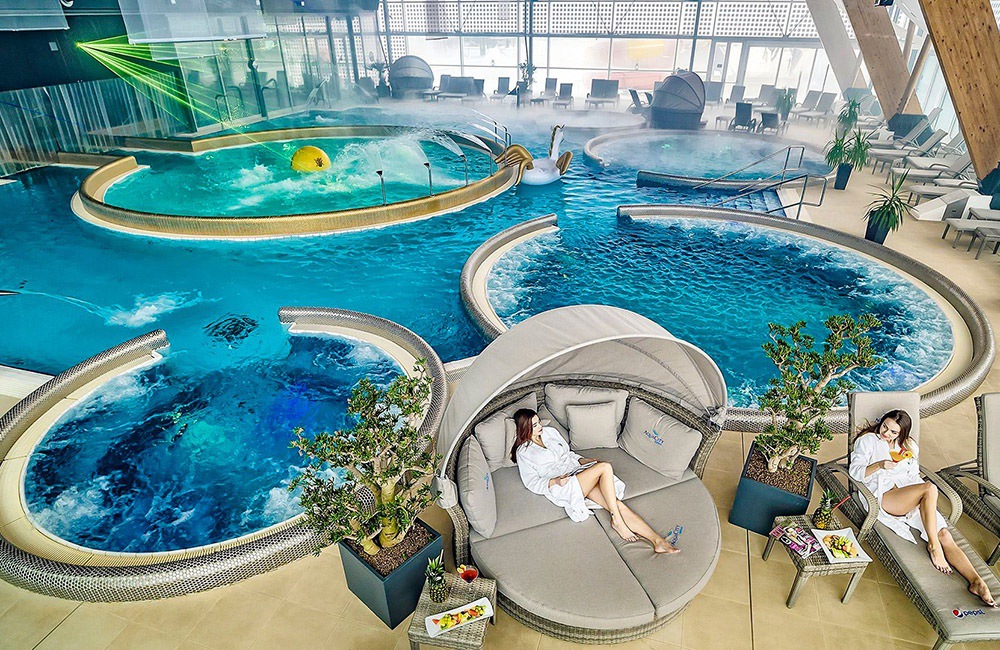 BLUE SAPPHIRE POOLS
Indoor thermal pool / year-round • Temperature: 30° and 35°C • Depth: 1.2 m • Dimensions: 26 × 22m
The main attraction in the aquapark is covered by relaxation pools with a water temperature of 30-35 ° C, offering a full range of water and air massages, water splashes and seats, water curtains and nozzles, special light therapy for chromotherapy – light treatment, artificial waves and other attractions. Pools available are two – outdoor pool with four separate bays providing relaxation in 35 degree water, indoor pool is cooled with water temperature 30 ° C, water walls and artificial waving facilities.
The Blue Sapphire pool is equipped with a laser show, a 9m high water wall projection and a surround sound system. The multimedia laser show in Blue Sapphire pools every night will bring a great atmosphere. An experience that brings you this sound and image is unforgettable. The Laser Show in AquaCity demonstrates the possibilities of using the most technologically advanced laser projectors.
LASER SHOW in the Blue Sapphire pools
Duration: 10 minutes
Monday: AquaCity Poprad show
Tuesday: Michael Jackson Dance show
Wednesday: James Bond 007
Thursday: Evolution
Friday: Kids Laser show
Saturday: Pirates of theCaribbean 
Sunday: Love & Romance
AquaCity's Blue Sapphire pools use colour effects in conjunction with thermal water to maximise the calming effect of colour and heat on mental and physical balance. Chromotherapy is an alternative curative method used to harmonise the body and spirit with light and colour. It strengthens the body's resistance, uses colour and light to achieve physical and mental balance. When we expose the water to sunlight, the water absorbs the vibrations of a particular colour, which is the basic principle of chromotherapy.
The ancient form of healing is based on the idea that each being contains five basic elements: earth, water, air, fire, and ether (space). Their relationship is closely related to personality and nature and differs from person to person. Any disturbance of this equilibrium, whether an unhealthy lifestyle or external influences, will cause disease. Ayurveda uses the energy contained in the colours of the spectrum to balance these elements.
BLUE DIAMOND POOLS
Indoor thermal pools / year – round • Temperature: 34°C • Depth: 1.2 m • Dimensions: 16x6m
Thanks to a comfortable atmosphere, with magical underwater lights and hot thermal water, the Blue Diamond Pool is the ideal place for even the smallest children and adults. The pool bar with terrace creates a comfortable atmosphere for those who want to meet, talk, relax or have a refreshing drink.
Exclusive Blue Diamond II thermal pool with a drink bar right in the water offers the luxury you expect. You can enjoy a rich menu of mixed drinks and relax on the poolside bar stools. Have a nice time with your family. Blue Diamond Pools are a convenient venue for organising any social and congress events. The space can be rented by companies or conferences organisers who want to experience a truly special party or corporate party.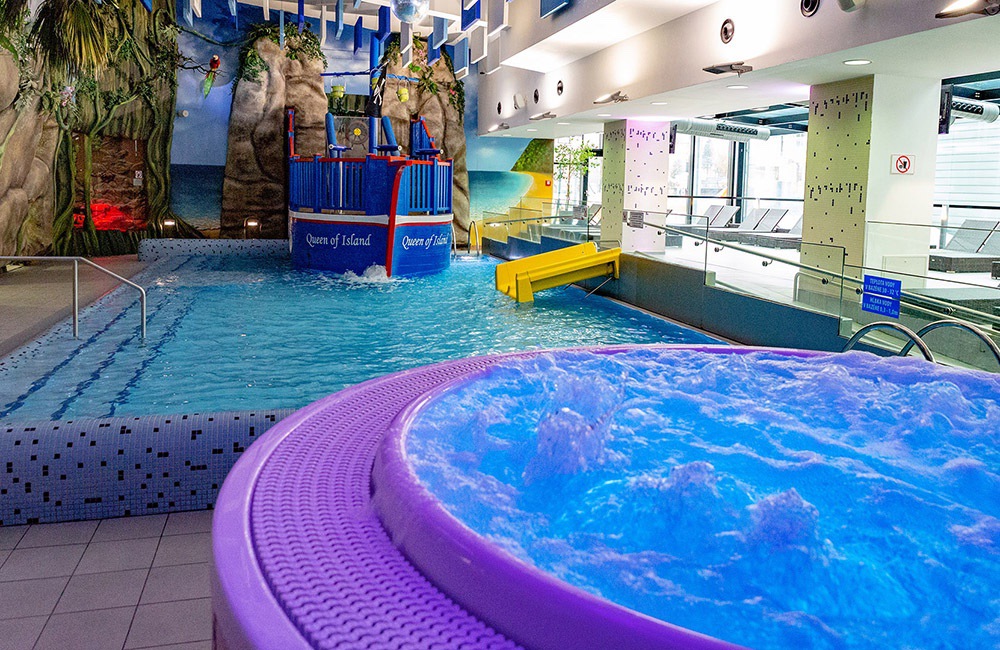 CHILDREN POOL TREASURE ISLAND – TREASURE ISLAND
Indoor heated saltwater / year-round pool • Temperature: 34°C • Depth: 0.9m • Dimensions: 12x6m
In the sea of fun under the Tatra Mountains, we have prepared Treasure Island – Treasure Island, an exotic bay style for all children, in which there is shipwreck with slides and water attractions. All children have the opportunity to experience the feeling of cruising on a historic ship, bathe in salt water, or enjoy a variety of entertainment animation programs. The children's world with the Summer Lounge and the Jacuzzi for adults is suitable for the whole family.
On the treasure island there are also the fabulous live nemo fish in the aquarium and the Treasure Island mascots, two live iguanas in the terrarium of the Galapagos archipelago Hugo and Boss, who are the protectors of the whole island.
SWIMMING 50M POOL
Indoor heated pool / year-round • Temperature: 26 – 28°C • Depth: 1.2 – 1.8m • Dimensions: 50x21m
AquaCity Poprad is the resort with hotels and a 50-meter indoor swimming pool under one roof. The place for sporting performances, as well as relaxation, is made for people who love swimming. Swimmers have 8 swimming pools available for use throughout the whole week. If you need to get even more blood circulation, there is a steam sauna with high humidity, where your body gets rid of harmful substances and relaxes. Improve your fitness and strengthen your vitality and health. The pool meets the requirements for the organisation of training camps, sports centres, as well as sports activities in swimming.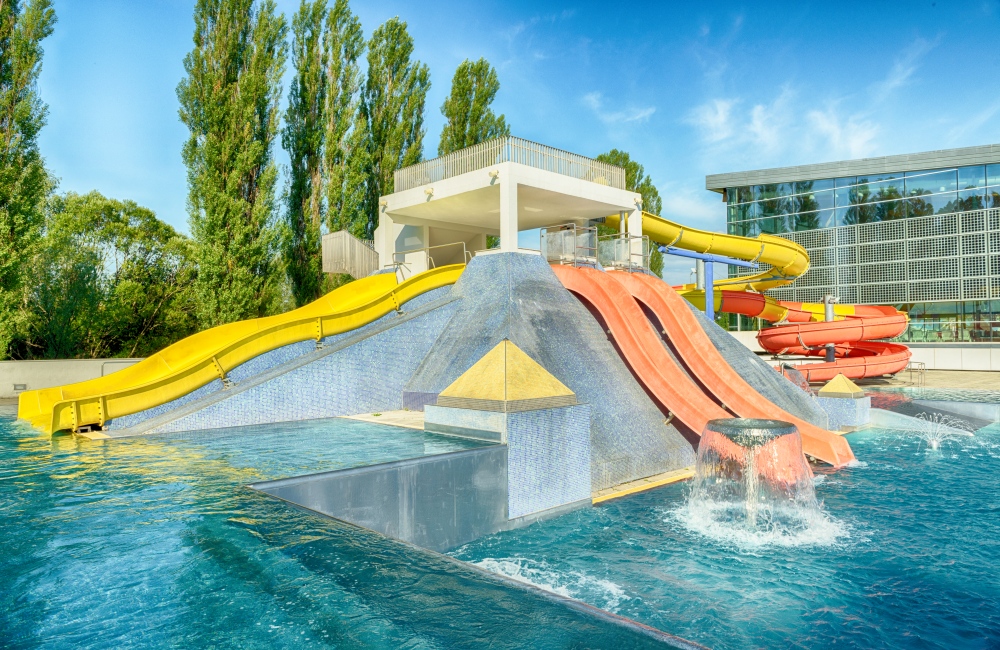 MAYAN PYRAMID
Outdoor heated pool / summer operation • Temperature: 33° – 35°C • Depth: 1.2m • Dimensions: 25×45m
During the summer season (1.7. – 31.8.) You can try the water entertainment pyramid with attractions for children and adults. The Mayan Pyramid has 3 stainless pools, slides and many water attractions such as the wild river, water mushroom, water spike and water spouts. Pools with a depth of 1 – 1.2m and a water temperature of 30 ° C are suitable for children and adults alike. At the 20-meter high Mayan pyramid, you can try a family slide or take two fast and steep kamikaze skewers, or ride a rafting slide. Experience an unforgettable day full of adventure and adventure with your family and discover an attractive place for entertainment, and relaxation.
CHILDREN SUMMER POOL
Children's outdoor pool / summer operation • Temperature: 30°C • Depth: 0.4m • Dimensions: 12.5×12.5m
For the youngest visitors we have an outdoor children's swimming pool with water slides during the summer season. Water height 0,4 m and water temperature 30 ° C ensure safe bathing of children.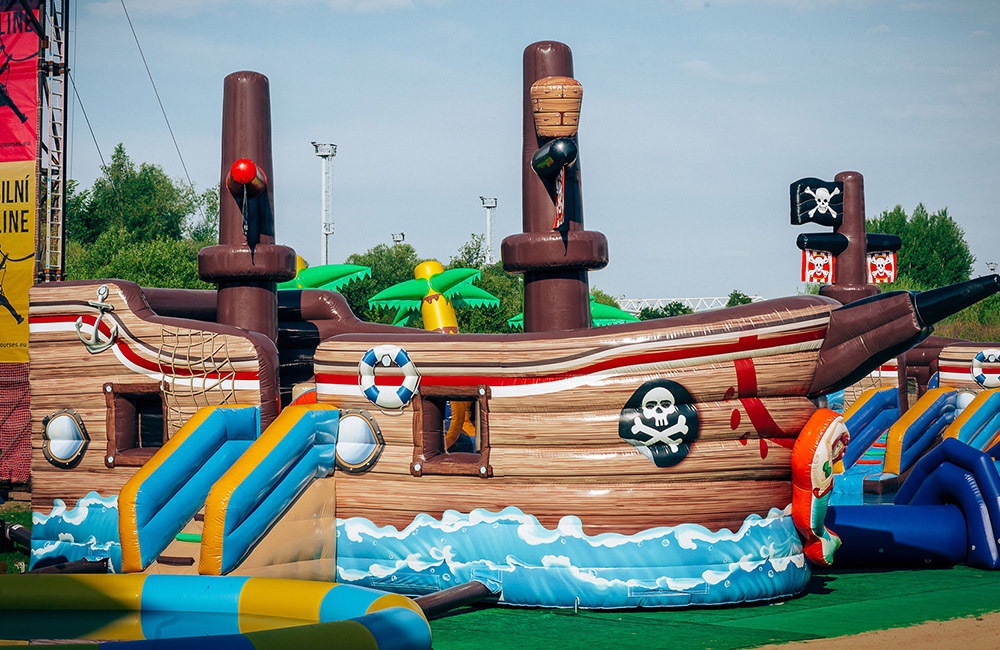 FUN KIDS ZONE
Outdoor inflatable outdoor pools / summer operation • Temperature: 34°C • Depth: 0.6m • Dimensions: 35m
During the summer season, enjoy the FUN KIDS zone in the outdoor area. There you will find a 35-meter inflatable pirate water park, bouncy castles, trampolines, a playground with climbing frames, a train and swings. You can enjoy a real relaxing holiday under the High Tatras on a sandy beach with sand, sun loungers, umbrellas and a beach bar with exotic music and drinks.
Thermal water is the primary source of energy used for heating the complex and is the heart of AquaCity. The water is gentle on the skin and beneficial to health. Water is one of the most important natural resources in the world. In AquaCity, water is also the base for fun and relaxation. Water pumped from underground geothermal natural lakes is fed into AquaCity with an initial temperature of around 49 °C. In large high-tech water exchangers it releases its heat, which is transferred to the hotel and resort buildings. Water in the pools, showers and water supply is under constant strict supervision and impurities are removed using the same natural filtering systems based on UV, which are used for drinking water.
The use of chemicals is kept to a bare minimum in pools, bathrooms and showers meaning that the water remains soft on your skin and eyes, and is also environmentally friendly. To minimise the amount of chemicals needed, new pools are constructed using stainless steel, not concrete, thereby reducing the need for chlorination by upto 90%.
Use of heat is possible with external balneotherapy and indications of thermal water use are based on the physiological effects of heat:
positive impact on the skin and blood circulation to the skin
positive impact on the cardiovascular system
positive impact on metabolism
positive impact on regulatory mechanisms
positive impact of thermal stimuli to the nervous
muscular system
The Geothermal springs in AquaCity are some 1,300m beneath the earth's surface. They are more than 15,000 years old and producing the cleanest thermal water, containing more than 20 minerals by the time it reaches the surface. The water temperature of 49°C brings this water into the ranks of hot water (above 42 °C).
Based on the mineralogical composition being rich in calcium, magnesium, sodium and carbon dioxide, the natural thermal water in AquaCity has been championed by many as water with healing properties.
The Aquapark includes 13 outdoor and indoor pools with a temperature of thermal water 28°C – 38°C, water slides and more than 350 water attractions.
Vie more